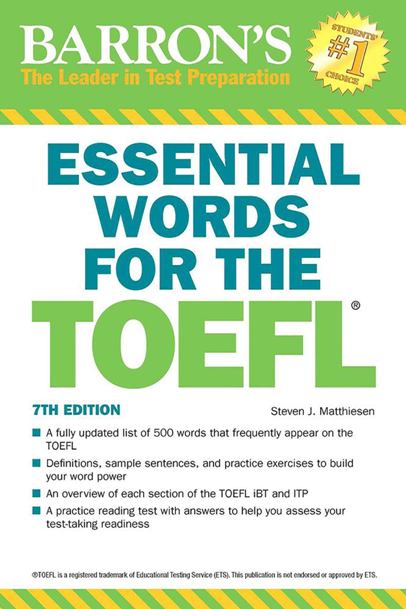 What vocabulary is necessary to score high on the TOEFL?
Why is it especially important to have a strong vocabulary for the current TOEFL?
Why must I improve my vocabulary and how can I succeed?
How can I be a better TOEFL test taker?
Essential Words for the TOEFL answers these questions and provides you with a proven plan for improving your English vocabulary while also preparing you for the TOEFL. The words and practice questions that appear throughout this book will help you to maximize your understanding of words that will likely appear in every section of the TOEFL. Important information about how to maximize your score on the TOEFL is given in addition to vocabulary building hints and exercises. By following the program and mastering the words in this book, you will be ready to earn a higher score on the TOEFL.
This 7th edition of Essential Words for the TOEFL has an extensive, revised list of 500 words with improved exercises and updated reading selections. This edition makes Essential Words one of the most thoroughly researched books of its kind. It is the product of extensive study of previous TOEFLs and academic materials from which the questions on the TOEFL are produced. The result of this research is this powerful book of words that will lead you to success on the TOEFL.